Join today
Basics of Prompt Engineering with ChatGPT
Learn the art of crafting the right prompts to get the most out of this revolutionary tool. Then show off your skills on LinkedIn with an online verifiable certification.
10 Modules

4 Hands-On Exercises

2 Quizzes

1 Certification
Learn Prompt Engineering
Prompt Engineering isn't coding, it's 2023's most valuable skill: the art of knowing how to use generative AI tools like ChatGPT and Bard. In this course you won't rely on copy and paste prompts, you will learn to develop your own based on your own needs and use cases.
Productivity Boost
I personally wrote, illustrated, edited, and published an Amazon bestseller in 10 days. Learning to use tools like ChatGPT the right way can give you a productivity boost beyond your wildest dreams. Get a competitive edge today!
Get Certified
To get certified you will have to complete each of the above modules, and pass both section quizzes with a pass rate of 70% or above. If you fail the quizzes, you will be given the opportunity to review the learning material and to try again until you pass.

Each module from the prompt engineering section has a hands-on activity. While these are not mandatory to get your certification, we highly encourage you to complete them, as they will turn your knowledge into practical skills you can use every day.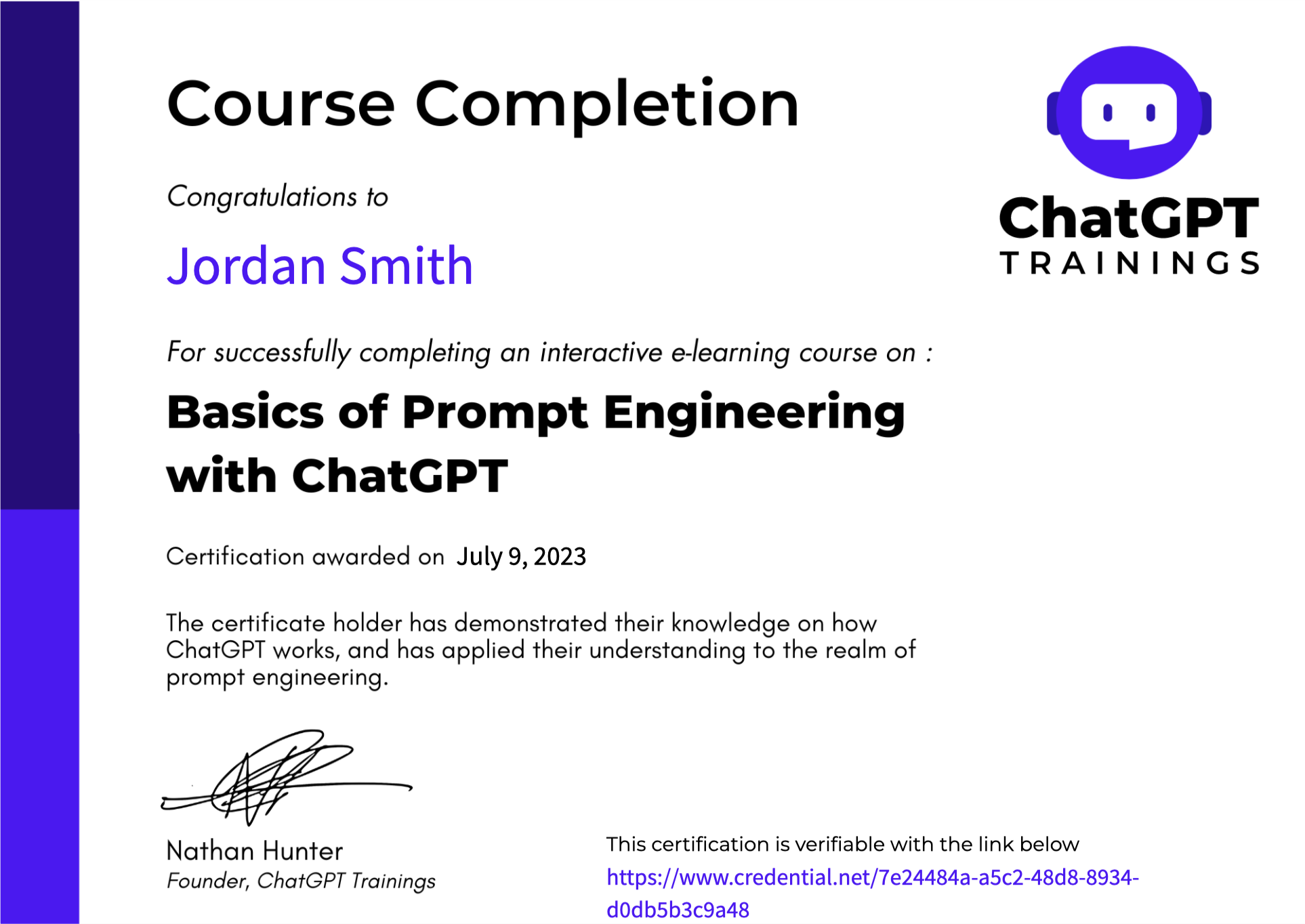 Meet the instructor
Nathan Hunter
Nathan Hunter, the founder of ChatGPT Trainings and Amazon bestselling author of "The Art of Prompt Engineering with ChatGPT," is working to shift organizations from a basic 'try this prompt' approach to using tools such as ChatGPT, to a more nuanced mastery of prompt engineering. This new skill is vital to the workforce as our technology pivots away from graphical user interfaces to conversational interfaces.
Having lead trainings in over 30 countries over the past decade in both soft and technical skills, Nathan brings a unique and engaging training approach that places the learner experience at the heart of each course. Feel free to connect with him via LinkedIn.